Thin Wall Products
Special knowledge and attention is required in the designing of these types of moulds due to the limited wall thicknesses required with subsequent long flow circuits. This demands mould parts with high degrees of accuracy, limited tolerances, precise surfaces together with specific heat treatments and coatings.
Our experiences here count greatly.
In this respect we too provide mould solutions in terms of all kinds
of product shapes, sizes or multi cavities requirements.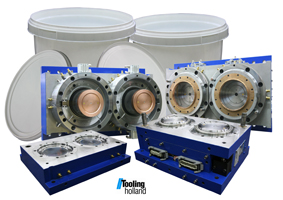 Moulds for thin walled products:
- buckets and lids
- drinking cups
- yogurt cups
- plant pots
- Tree containers
- Battery containers

Important to note:
- Long life with 24/7 production
- short cycle times
- Hardened surfaces
- Use of copper alloys
- open and needle closure hotrunner systems