Watertight Solutions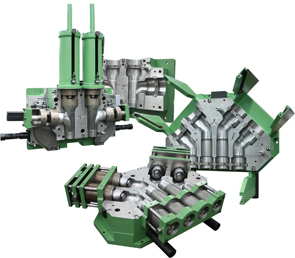 Watertight solutions are often needed by our customers.
Our main activity since 1981 is the development and production
of High tech injection moulds for sanitary and drinking water
supply and waste water effluent removal systems. Also irrigation,
drainage and storm water management as well as gas/smoke
removal systems.
Mostly the raw materials used in these systems are PVC, PP, PE, PPR, PPSU, ABS and filled synthetic materials.

Our manufactured moulds for above applications are for normal as well as for
low pressure moulding processes. In the latter, additives used with main
materials create foam based structures (Foam plastics)

Advantages of the latter are lower closing pressure use and lower product weight.
These lower pressure moulds are usually made from Aluminium and particularly suited to produce fittings 500 mm + up.

Tooling Holland bv produce fittings from 12-1000 mm diam.
A specially developed method by Tooling Holland is the Collapsible Core (Sliding Segments) Technology to make fitting moulds which form O-ring chambers for placing the sealing-ring in the product. This technology enhances a long life and low maintenance mould. This technique we have mastered and used in 32-500 mm diameter fittings for many years now.

Materials used in the making of our fitting moulds are High-Quality chrome steels (PVC products) and supplied by European material suppliers.

Cores in our moulds are mainly mechanically moved by means of guided rollers in curved plates.
Advantages are:
- no hydraulic connections, eliminates leaking
- no safety switches, reducing faults
- quick adaptions
- fast cycling times by moving cores during opening/closing of injection moulding machines.

The degree of inventiveness is illustrated by the development of the unique 8 cavities bend mould 110x90* (where 3 cavs mould is the industry norm!)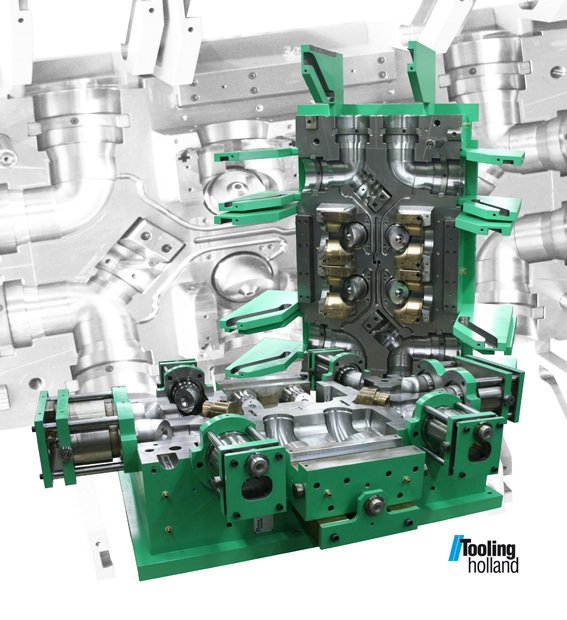 This 8 cavs mould without the use of a
PVC hot runner can be used on the same
injection moulding machines as are usually
used for 3 cavities moulds.
In addition our 64 cavities PP-R 90* Bend
Mould or our 4 cavity PVC Bend 110x90*
mould with folding cores (Sliding Segments)
and a PVC hotrunner have become our trademark!

If you are contemplating reductions of your
investments with the same or increased outputs,
please consider our Mother-mould systems
with interchageable parts to produce several different products.

Contact us and we will gladly answer any questions you may have!